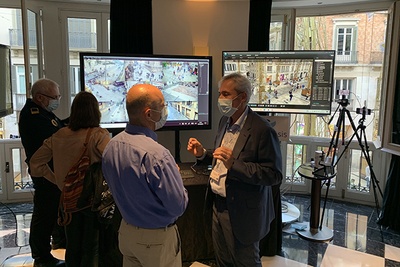 On 30 October a pioneering test was held during the celebration of La Magna. Framed in the project "5Genesis", took place in the center of the city and allowed the monitoring of large crowds of people, with the aim of detecting possible situations of risk.
For this demonstration, autonomous video cameras were installed and six local police officers carried 5G mobile phones, obtaining the capture and video consultation in real time of different points of the route. In turn, these images were sent to the control center, also connected by 5G, installed by the Police at the Larios Hotel.
This is the first time in Europe that 5G has been tested on issues of security and citizen control at mass events. Pedro Merino, Director of the Institute of Technology and Software Engineering of the University of Malaga (ITIS) and promoter of this project, explained that "the use of the 5G network in this type of mass events gives the police a great operational advantage, as it provides added information, immediacy and versatility."
In addition to the investigators of the UMA, were present the Vice Chancellor of Studies, Ernesto Pimentel; the Councillor for Security of the City of Malaga, Avelino de Barrionuevo; the deputy inspector and head of the Computer and Telecommunications Group of the Local Police, José Manuel Moreno and David Artuñedo, from
Telefónica.
Several media have collected this achievement in the form of news: